Welcome to Monday Mantras With Megan
It's time to take back your Mondays.
Monday Mantras with Megan is a lighthearted and approachable guide to a year of mindfulness intentions and actions in the form of simple practices to help improve your physical, emotional and mental health.
We each have a cup of life to handle, and sometimes our cups start to overflow.  Monday Mantras with Megan is a release valve to your filled-up cup.  Use this book as a gift to NOT do something:  not be as worried, not be as frightened, not be a negative, not overfill.  Use it to learn the value of your experiences, your voice, your heart, and your story.
Each week, a mantra will guide you to self-reflection, and an activity will support the healing intention of the mantra.  These actions provide you with a gentle yoga practice, access to your creativity, awareness of your breath, basic use of essential oils for healing…and connection to others and the world around you.
Drawing from many disciplines, personal experience, and over 20 years in the medical profession, Dr. Megan Weigel has created a program that is as comfortable as having a cup of coffee with a dear friend.  Monday Mantras with Megan has reached bestseller status in medicine and psychology, health and spirituality, mindfulness, self-esteem, meditation, and alternative holistic medicine.  There is truly something in it for everyone!
Meditation practices don't have to be hard.  Micro-doses of mindfulness work.  Enjoy your journey with this content each week and with your life at a greater level.
Named one of the Great 100 Nurses of Northeast Florida, Dr. Megan Weigel is a Jacksonville beach-based nurse practitioner specializing in wellness and disease prevention.
After leading yoga classes for people living with Multiple Sclerosis, Megan realized something bigger than traditional medicine was at work in the body's healing process. She pursued an integrative medicine fellowship at the University of Arizona and shortly after completion, started her own integrative medicine. She prescribes mindfulness practices as a key component of calming the nervous system and readying it for wellness.
Megan is an advocate for the importance of one's personal story, the search for meaning and the value of relationships in the healing process. She finds her own healing in the stillness of writing, in the movement of yoga, running and surfing, in travel and in service to her community.
The recipient of many accolades, including the University of Florida's "Outstanding Young Alumnus" award, Megan continues to consult and speak about wellness and MS care all over the country while enjoying her own journey with her husband and son in Florida.
Speaking + Interview requests
Megan is available for speaking engagements. Her expertise spans over a decade and includes both small and large audiences, live and virtual platforms, and international audiences. Her ability to connect with both social and academic audiences results in successful emotional and educational experiences that leave people feeling renewed, motivated and connected.
Dr. Weigel has a passion for educating the public about lifestyle and integrative medicine, and the safe use of holistic therapies for neurological conditions and symptoms. She weaves her experience in acupressure, biofeedback, yoga, and mindfulness techniques into her conversations. Her book, Monday Mantras with Megan, will be available in September 2022 and offers an approachable and lighthearted introduction to mindfulness.
To schedule a speaking engagement, please email megan.weigel@firstcoastintegrativemedicine.com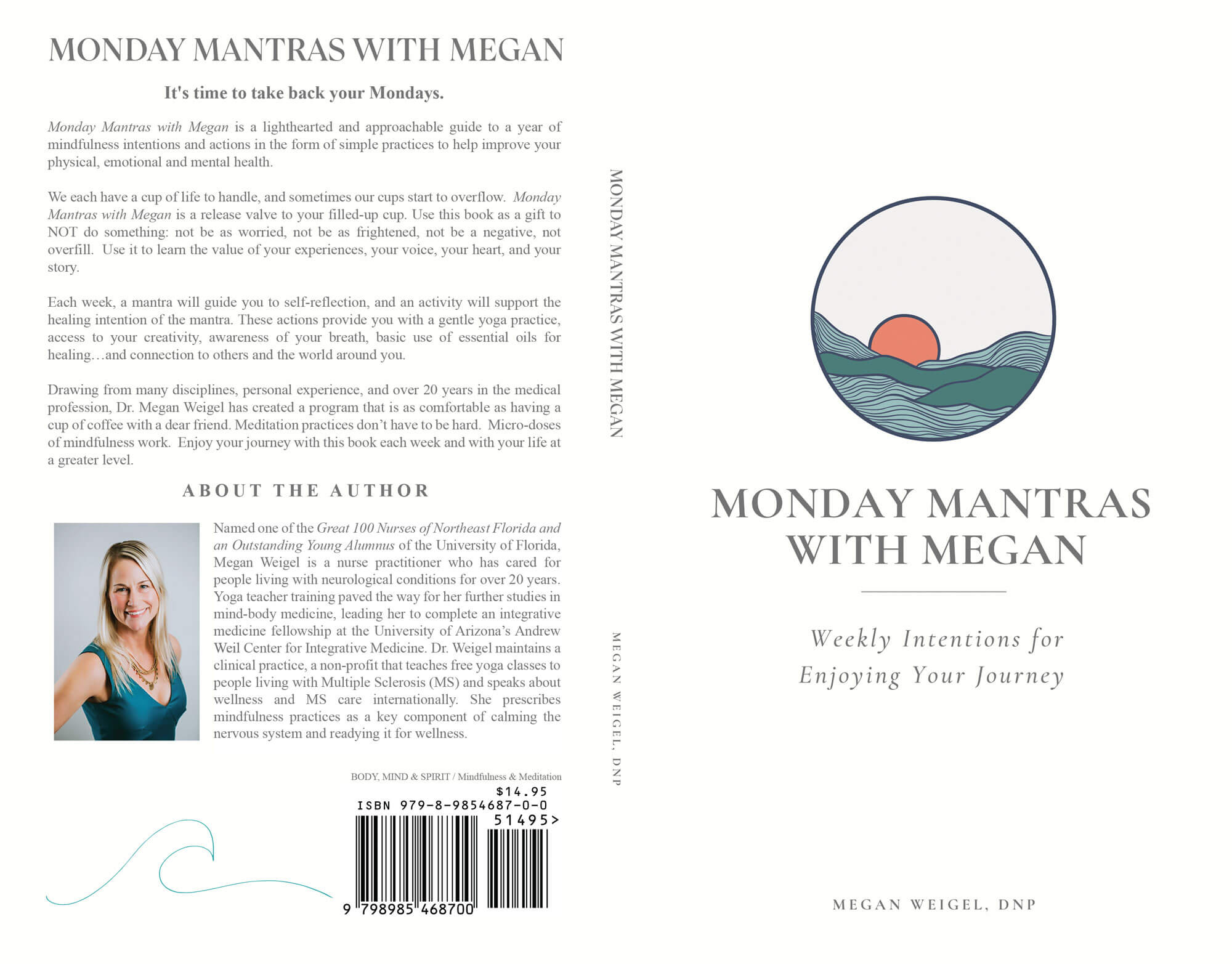 Monday Mantras
Yoga Sequence
The complete sequence of poses featured in the book!